IDEA StatiCa works with your RAM Structural System. After introducing a new file format import, you can connect your structural models created in RAM SS, with IDEA StatiCa apps. You can simply save your RAM model as .rss file. And this can be easily imported through RAM import into the standalone Checkbot app.
IDEA StatiCa and RAM Structural System give you an efficient workflow for your structural steel design that saves time, minimizes errors, and opens up optimization possibilities.

Workflow of RAM Structural System and IDEA StatiCa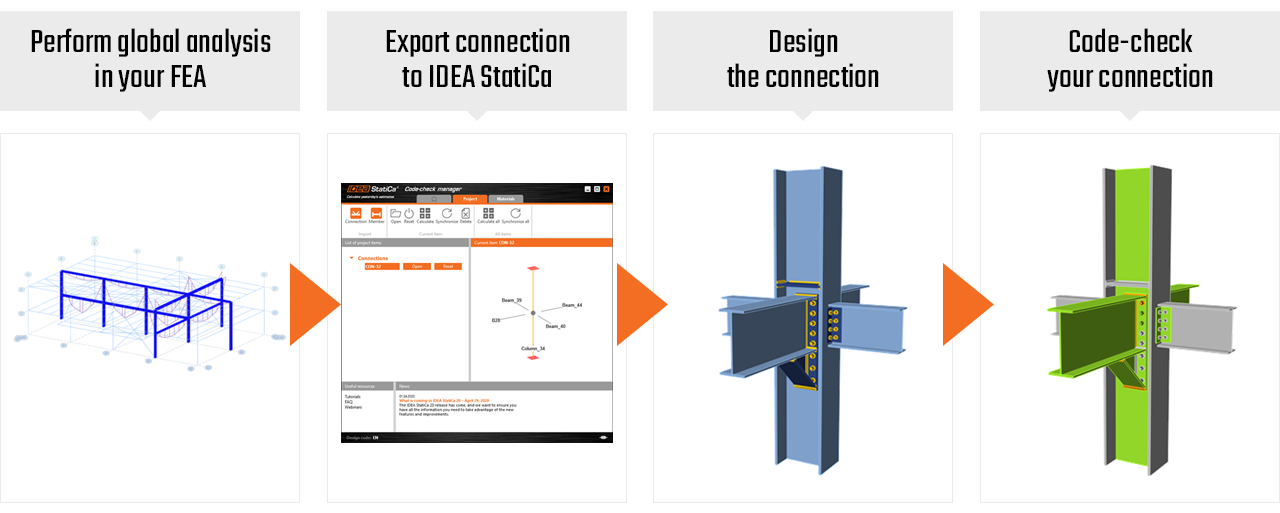 You do not need anything special to get started - just download and install IDEA StatiCa application and simply open your .rss file created in RAM Structural System. Then you can start designing steel connections on your RAM model right away! Import doesn't mean only the geometry of the structure, but also materials, cross-sections, and internal forces will be imported as well.
After successful import, your structural model will be displayed directly in the 3D graphic scene. Here, you can select which structural joints and members you would like to design and code-check.
Export, design, synchronize, generate a report
Ready to solve various steel connections? RAM Structural System combined with IDEA StatiCa will allow you to model, design, load, and check steel connections of any topology and loading. Also, you can make this data available to your colleagues or subcontractors doing detailing and fabrication.
Scope of the BIM link
Linked applications: IDEA StatiCa Connection, IDEA StatiCa Member
Compatible versions - check here: List as of the latest release
Version 21.1 and newer (October 2021 onwards) - The BIM link is managed by IDEA StatiCa Checkbot, an application for managing BIM workflows. This means for you:
Import your RAM structure easily
Complete control over all of your created connections and members
A clear list of all created items, including status checked/not-checked
3D visualization of imported members and loads
Conversion table for materials and cross-sections
Load combinations management
Here you can download a PDF file with the details for use of RAM SS BIM-link import.
Read more about How Checkbot works.