Features
Bulk selection & export from CAD and FEA software
There's nothing new under the sun, our BIM links can save your design time, so you do not have to model your steel connections from scratch or apply loads manually. But with the new bulk selection features introduced in version 20 and 20.1, these time savings bump up.
We believe, introducing thoroughly our IDEA Statica Code-check manager would be just wasting your time. This BIM plugin helps you to manage and synchronize structural details (connections, members) imported to IDEA StatiCa from other programs. It is launched directly from the 3rd party software.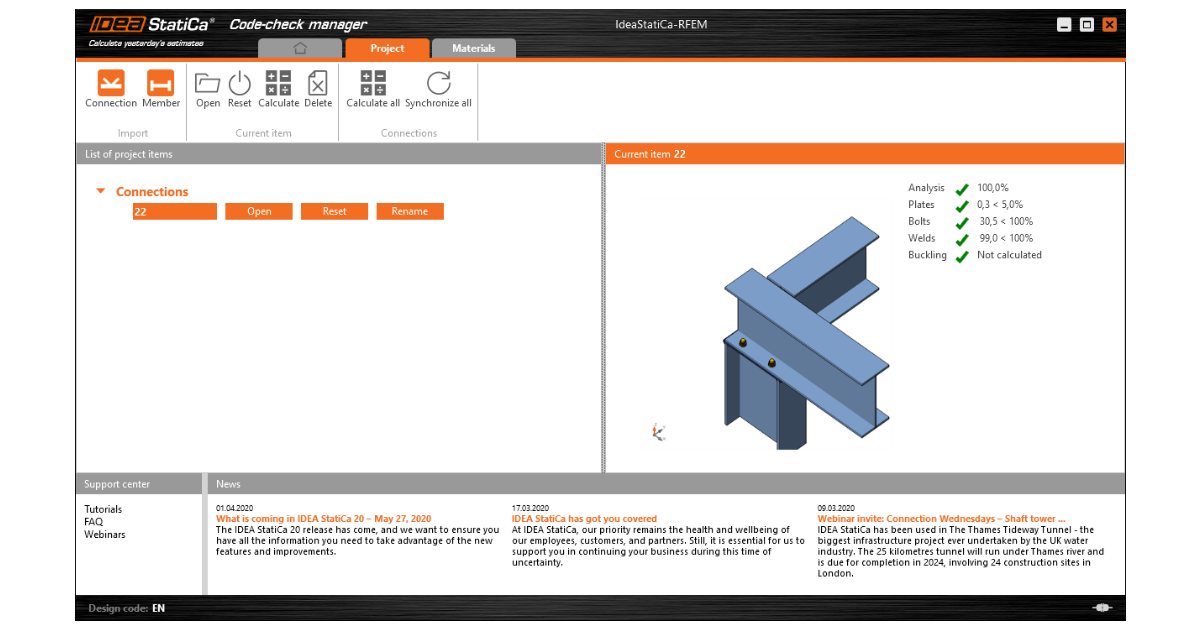 As we mentioned in one of our previous posts, reusing imported data from another application instead of modeling and/or loading the connection from scratch translates into 5-15 % of the time saved on connection design depending on if you are using CAD BIM link (5-10%) or FEA BIM link (10-15%). With the new bulk import feature, you can even double the time savings.
Bulk selection and export from FEA software
Import from FEA applications is now easier than ever, the user can select multiple nodes, and the Code-check manager will import all of them as unique connections.
You can export nodes from your FEA model including their data, such as cross-sections, load cases, or materials. The multiple item import can be done by selecting individual nodes one by one or by dragging over more nodes with a mouse and select them as a bulk.
After opening and designing the imported joints one by one, you can run the bulk analysis to code-check all the connections at once.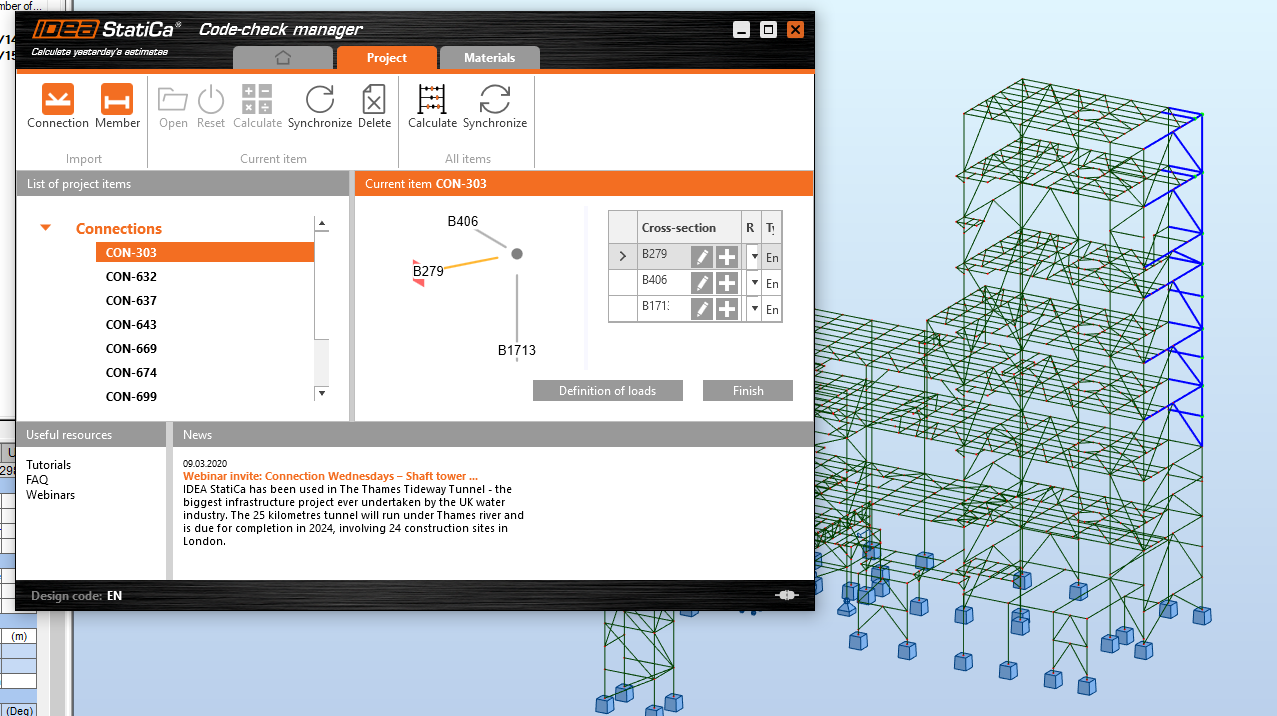 See how it works
Watch the part of our unique webinar where multiple export feature is being showcased on a connection designed in Robot Structural Analysis software.
You can easily take advantage of the Synchronization function as well. In case, you change anything (e.g. load combination, a cross-section of a beam) in the structural model, you can upload the new data to all the joints on the list at one click while you keep the design.

Read this article for more detailed instructions.
By the end of the day, you can merge the data you imported to IDEA StatiCa from your FEA software and combine it with the resources provided by your detailer.
The bulk selection feature for FEA software is available in any IDEA StatiCa Steel package. Mass Calculation and Synchronization of all listed items are available in the Enhanced package IDEA StatiCa Steel only.
Bulk selection and export from CAD software
With the new IDEA StatiCa version 20.1 introduced in October 2020, the Code-check manager was improved by the possibility to select multiple joints of the global model in one go.
In your CAD software, you will find a new Export button to select individual or bulk export of connections. With one drag of your mouse, you can select a proper part of your steel frame structure. The selection is analyzed and connections are identified and added.
This feature is available for all three main CAD software with IDEA StatiCa BIM link – Tekla Structures, Autodesk Advance Steel and Autodesk Revit.
See how it works
Watch the part of our product release webinar where multiple export feature is being showcased on a connection designed in Tekla Structures software.
It is just good to be aware, the export from CAD software has some limitations. You can read more about them here in our Support center for Tekla Structures and for Autodesk Advance Steel.
Test it by yourself
Bulk selection imports for both CAD and FEA software are available in the latest IDEA StatiCa version 20.1. The best way to test them is to download the new version and ask for your free 14-day trial.
So, save you mouse clicks for RPG games and enjoy this new feature in your structural design projects.