Horizontal tying resistance is a design code requirement of multi-story steel structures. The check is there to prevent accidental or disproportionate collapse.
Several options are possible but the most used is the prescriptive approach: horizontal tying resistance. Connections must be designed to transform the tensile forces that are generated by second-order effects when a column is removed and the floor acts as a membrane.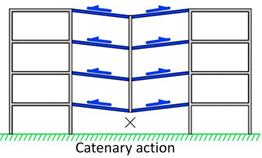 This analysis type is valid only for EN. Only one member is analyzed, all others are restrained (similar to the stiffness analysis type).
The Model type of the analyzed member is automatically changed to N-Vy-Vz. Only one load component – N – can be set; all others are set to zero.
Available in the Enhanced edition of IDEA StatiCa Steel.
Download and try features of IDEA StatiCa 22.1