Případová studie
Natural Gas Plant
Las Vegas, US
|
Spojené státy americké
The interoperability between structural engineering tools plays a key role in the success of infrastructure projects. In the following case, IDEA StatiCa and Checkbot helped CSF Consulting to save 900-man hours. Checkbot worked as a translator to communicate between STAAD.Pro and IDEA StatiCa connection, transferring hundreds of nodes and thousands of load combinations, avoiding any load input errors. The structural design process started in STAAD.Pro, where the global structure was analyzed and designed. Using the Checkbot app within STAAD, the entire structure can be imported into Checkbot. Finally, IDEA StatiCa will open every node with the geometry and load combinations where the connection can be modeled and designed. The following article shows how CSF Consulting took advantage of the interoperability in a Natural Gas plant structural design.
About the project
This project was a collaborative effort since the preliminary design was completed before CSF Consulting was engaged in the project. This preliminary design used foreign steel shapes. CSF was able to continue the design using those shapes as their analysis software tools included them.
Our scope was to take ownership of the design by becoming the Engineer of Record for the structural design elements that were designed in China but would be constructed in the US.

Carlos A. Gutierrez. PE MLSE
Principal Civil/Structural Engineer – CSF Consulting LP
Spojené státy americké
The project was made up of several structures, each of which was unique. One particular structure was designed using STAAD.Pro. This meant Carlos A. Gutierrez, Principal Civil/Structural Engineer at CSF Consulting LP, and his team could use STAAD.Pro to confirm member sizing for updated loading conditions, including critical seismic and wind loading for an open structure. Then, using IDEA StatiCa Checkbot, transferred the nodes, geometry, and load combinations from STAAD.Pro to IDEA StatiCa, avoiding the manual inputting of loads and re-modeling. Once the connection designs were completed, they were then able to create a calculation package from IDEA StatiCa to make it easier for the governing authority to approve the outputs and add any additional comments to them.
Engineering challenges
Most of the challenges arose from the fact that the project's origins were in China with a different national code to the US. This meant that CSF had to re-analyze and confirm the design of the structure based upon US codes using foreign steel shapes as the project was to be fabricated offshore.
48 different load factor load cases were generated for the design confirmation using Chinese profiles. IDEA StatiCa was essential in helping us design check these very unique connections.

Carlos A. Gutierrez. PE MLSE
Principal Civil/Structural Engineer – CSF Consulting LP
Spojené státy americké
The connection shown below is representative of the complexity of this project. It had a column base plate with several stiffeners and two horizontal members and a diagonal bracing member tying into that column, which was anchored to a concrete pedestal.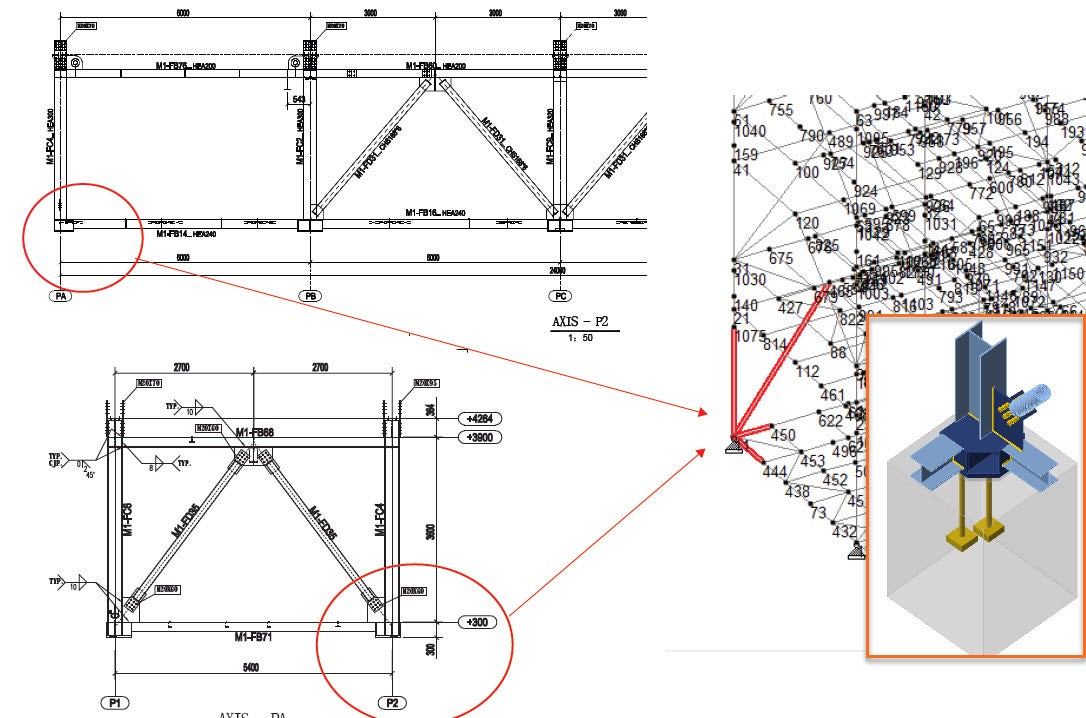 Solutions and results
Using IDEA StatiCa, Carlos A. Gutierrez's team was able to check each connection and, more importantly, prove that all load cases had been checked, as required by the reviewing authority. This saved them, on average, at least 30-man hours per connection. These time savings helped the engineer and project stay on schedule and budget.
The time savings we were able to achieve with IDEA StatiCa per connection had a vital and positive impact of more than 900 man hours saved.

Carlos A. Gutierrez. PE MLSE
Principal Civil/Structural Engineer – CSF Consulting LP
Spojené státy americké
The interoperability between STAAD.Pro and IDEA StatiCa proved critical in helping to avoid any load input errors. This meant that they were able to successfully transform and verify the original Chinese designs as acceptable and safe designs that were fully verifiable and in compliance with local legislation.
About CSF Consulting
CSF Consulting is unique in its multidisciplinary approach, offering civil, structural, and forensic engineering services as well as land surveying services. Their firm provides services for owners, architects, and contractors worldwide on projects of every size and level of complexity.
Founded in 1995, CSF Consulting has delivered more than 1,200 successful projects. Their professional staff is currently licensed in 40 of the 50 U.S. states and has the knowledge and experience to handle any of the challenges posed by today's complex projects.
Did you like this post? Don't miss similar topics!
Join 10,000 fellow engineers and get expert engineering tips straight to your inbox.