IDEA StatiCa
Connection Library
Get inspired by the world's biggest database for steel connections.
Try Connection Library
Stuck finding a
solution?
Don't reinvent the wheel! Connection Library is a cloud application that provides you with 400,000+ ideas for your connection designs from all around the world.

Browse examples matching your project, find & download the best suitable model for your project in seconds!
Open Connection Library
The world's largest database of steel connections
FREE

FOR EVERYONE

IDEA StatiCa Connection Library costs you nothing. You only need to create a FREE account to use all its features.

Connection Library has been created by structural engineers for the global community of engineers, fostering inspiration and simplifying their work.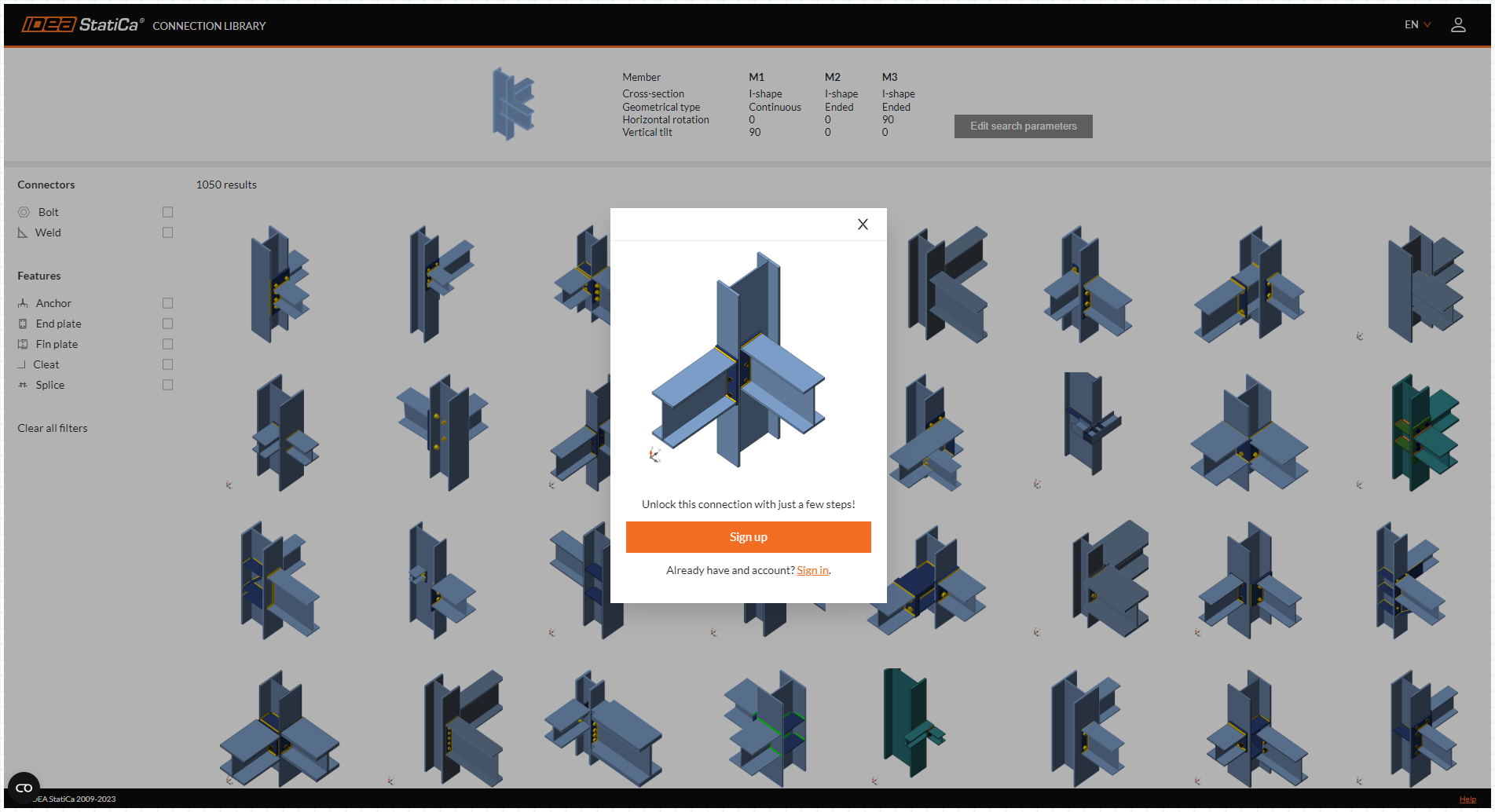 FAQ
Where does the data come from?
The database of Connection Library is based on data collected through another IDEA StatiCa cloud application for sharing project files - Viewer. Collected connection designs were anonymized and stripped of all the data but cross-sections, members, and building code. No data from our desktop applications was used to build the Connection Library database.
Are the connections verified by IDEA StatiCa?
No, they are not. And they cannot be; we stripped them of all data, including loadings.
These design examples are set to guide the way how such steel connections could be modeled. You should then try to model them by yourself, apply the respective loading as per project needs, and calculate them.
Is it the same Connection Library I see in my desktop application?
No, the Connection Library on your desktop works only with data of your IDEA StatiCa installation - predefined connection designs, your company set, and your private set.
Can I add connections to the Connection Library?
Yes, you can! Just upload them to the IDEA StatiCa Viewer
It usually takes us a few weeks to process all the new data and update the database of results.
How can I give feedback about Connection Library?
Sign in to the application (free account) and submit a quick survey!