IDEA StatiCa works with your Tekla Structural Designer. You can select any steel connection in Tekla Structural Designer and export it to IDEA StatiCa for code-checking. All the beams, cross-sections, and internal forces are not just exported, but they are also synchronized if the Tekla Structural Designer model changes. IDEA StatiCa and Tekla Structural Designer give you an efficient workflow for your steel design that saves time and money.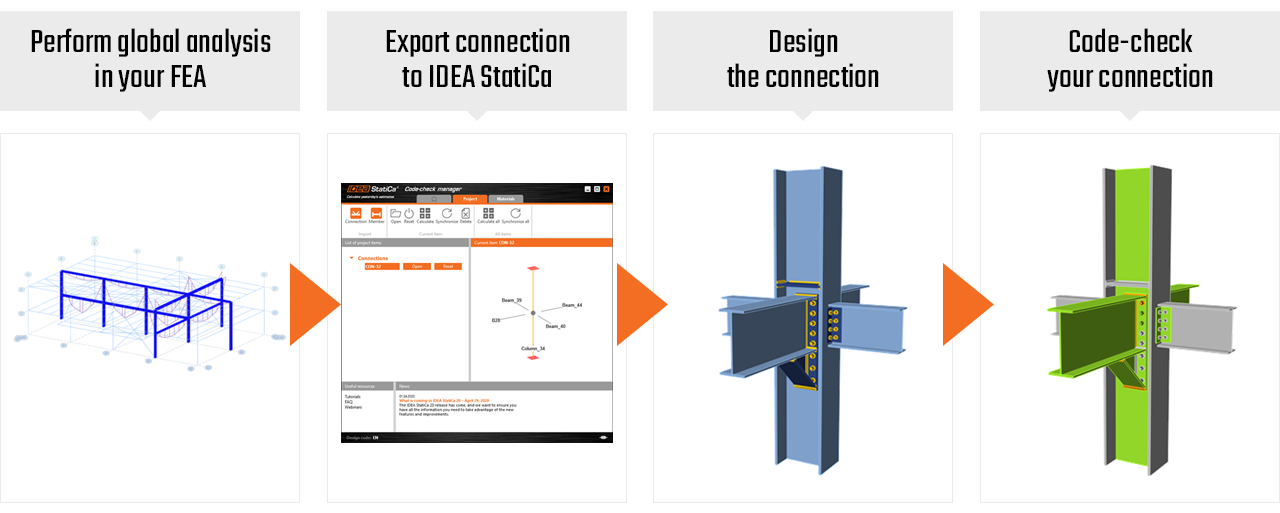 Activation is simple and you start exporting and designing steel connections right away! Watch a short video example to get you up to speed:
Ready to solve more complex steel connections? Tekla Structural Designer combined with IDEA StatiCa will allow you to model, design, load, and check steel connections of any topology and loading. And make this data available to your colleagues or subcontractors doing detailing and fabrication.
How to activate the link?
Linked applications: IDEA StatiCa Connection
Compatible versions - check here: List as of the latest release
Link is activated directly inside Tekla Structural Designer application, more information directly at the Tekla Structural Designer website.
Vertrouwd door ingenieurs wereldwijd
14584
Nieuwe projecten in de laatste 3 maanden
48130
IDEA gestart van werkstations in de laatste 12 maanden
4061
IDEA gebruikers wereldwijd
Read more about workflows with Tekla