Word een gecertificeerde professional in staalverbindingen
Online. Eigen tempo. Praktisch
Online cursus "Theorie en praktijk van het ontwerp van staalverbindingen "
Uitgebreide online cursus voor alle constructeurs en die betrokken zijn bij het ontwerp van verbindingen in staal. Je leert op de juiste manier berekenen, ontwerpen en controleren volgens de norm van verschillende typen staalverbindingen.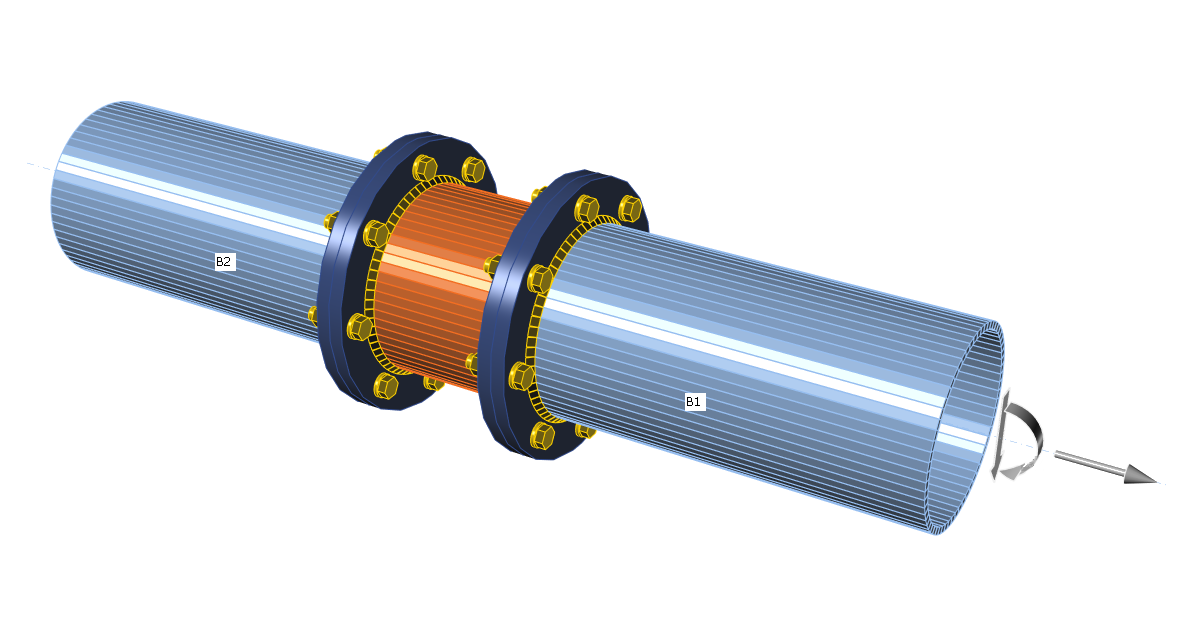 Wat leer je in de cursus?
Hoe IDEA StatiCa-software te gebruiken van instapniveau tot het meest geavanceerde niveau.
Ontwerp en normcontrole van uw gelaste en geboute staalverbindingen, funderingen en verankeringen van verschillende topologieën en belastingen.
Verkrijg kritische informatie over het verbindingsontwerp en de overeenstemming met de norm (Eurocode, AISC, enz.).
Begrijp de ontwerpaannames van IDEA StatiCa en hoe deze zijn te interpreteren. Raak vertrouwd met de Component-based Finite Element Method ("CBFEM").
Optimaliseer de topologie van het verbindingsontwerp terwijl u de ontwerpcode in overeenstemming houdt.
Hoe IDEA StatiCa werkt met programma's als SAP2000 en ETABS, Tekla Structures, Autodesk Advance Steel, Revit.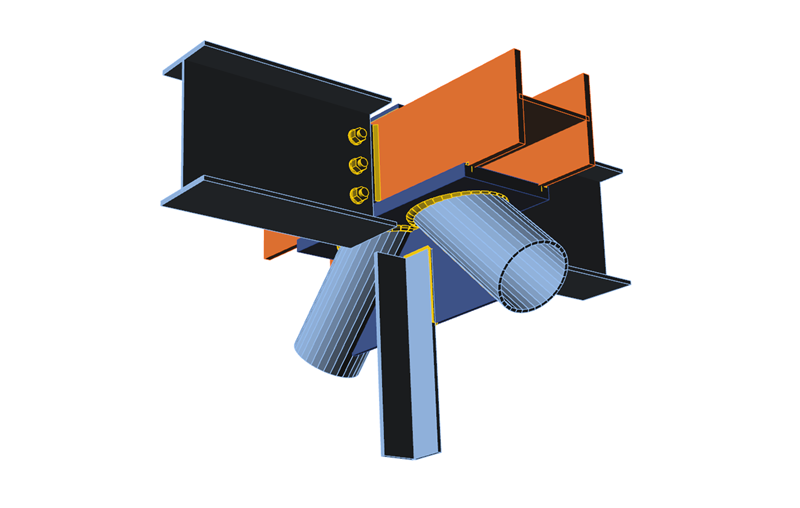 Waarom studeren met IDEA StatiCa Campus ?
Verhoog uw productiviteit exponentieel bij het ontwerpen van verbindingen.
Vergroot uw geloofwaardigheid in de ogen van collega's, klanten, aannemers en autoriteiten.
Verkrijg een wereldwijd toepasselijke IDEA StatiCa-gebruikerscertificering waarmee u zich duidelijk onderscheidt.
Onderscheid u van de massa (sollicitanten) met een zeer waardevolle skill voor uw toekomstige werkgever.
Hoe ziet de cursus eruit ?
Complexe
PDF

hand-outs

Exclusieve toegang tot meer dan 400 pagina's met tutorials, theoretische achtergrond en visualisaties van staalverbindingen in IDEA StatiCa.

Download voorbeeld tutorial
Quizen, opdrachten
Test de voortgang van uw cursus via geautomatiseerde quizzen en mijlpaal-beoordelingen. Je kunt op elk moment je online-collega's of online-docenten om ondersteuning vragen of je bevindingen in de chat bespreken.

De totale studietijd varieert tussen de 30-40 uur. De cursustaal is Engels.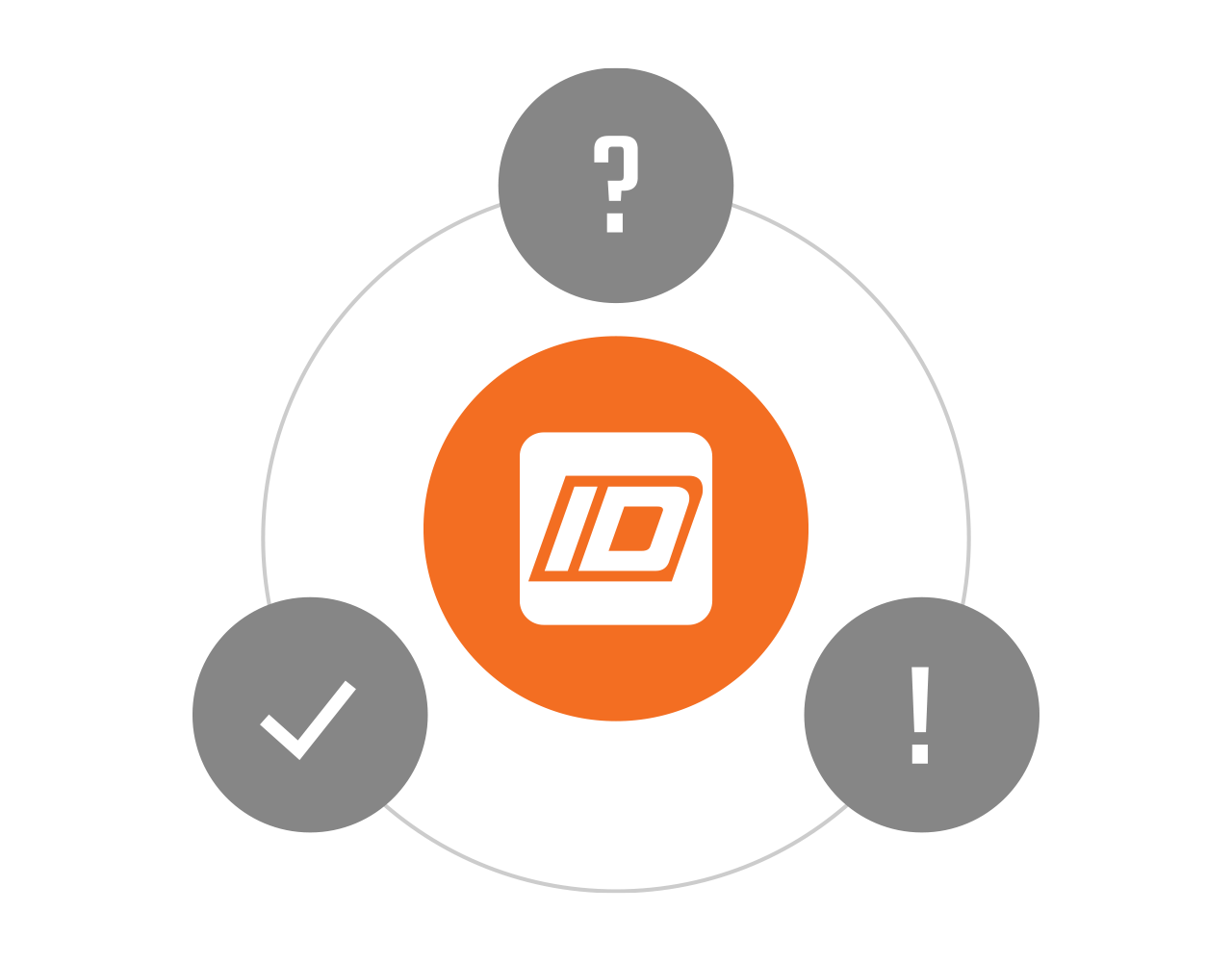 Certificaat
Verhoog uw professionele waarde met het certificaat, uitgegeven door IDEA StatiCa, na het voltooien van de cursus.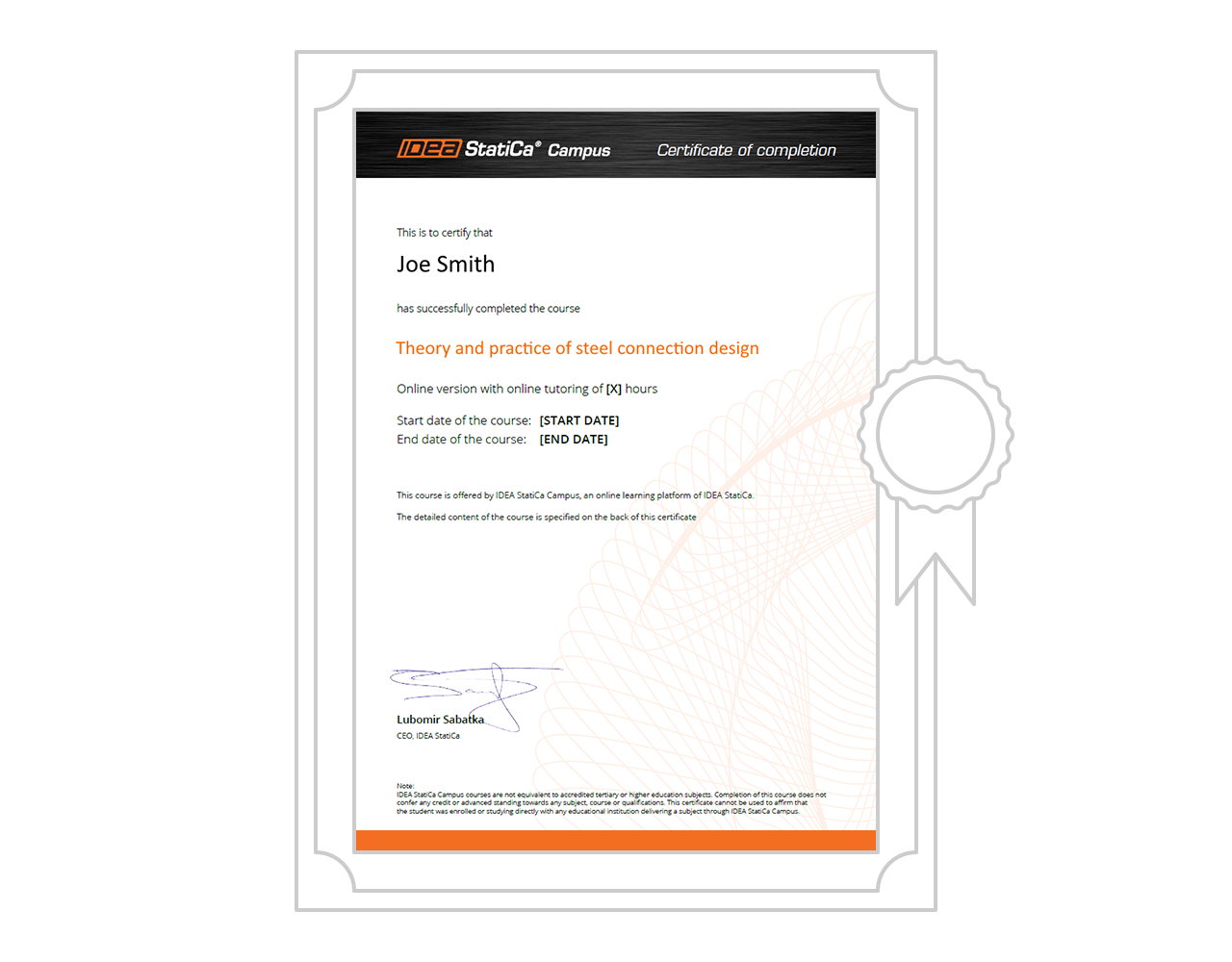 Wat zeggen de deelnemers over de cursus?
The course is perfectly structured to get to know the software in a comprehensive way. Very practical exercises and explanations. As a steel detailer with more than 10 years of experience, knowing and learning this software is essential to stay up-to-date and stay competent. It is the present and the future of steel connections.

Luciano Ruben
Civil Engineer/Steel Detailer –
The IDEA StatiCa Connection course has helped our company to increase our productivity in connection design. After the course, we are able to analyze, design and check various steel connections efficiently and effectively. Furthermore, the interaction with other students as well as course tutors helps me to broaden my knowledge of steel connections and understand all the features of the software.
Eleni Symoni
Civil Engineer –
This course is very well organized, where you can find lots of material and explanations about how to operate the software. It's about 400 pages of lectures, and lots of videos of different topics, where you develop your knowledge about IDEA StatiCa and how to understand the software inputs and output. There is a big difference between seeing a simple tutorial on youtube and make this training. I improved a lot with this training and now I can model any connection in different ways also. Just try it! The grading system is not so easy, you should study and think.

Carlos Franca
Civil Engineer –
It's been an enriching experience in a very well organized course and a great chance to learn a state of the art connection software. I totally recommend this course!

Dumitru Candale
Design Engineer –
The course is very well structured with vast material for study and practical exercises. The evaluation system obliges us to study and apply the content learned in each chapter. I strongly recommend the course. The tutors are incredibly experts and always ready to answer all the questions.

Sérgio Henriques
Structural Engineer –
This is a detailed course for those who want to learn how to work with the software from the scratch as well as for those who want to expand their knowledge. This course is step by step and easy to follow.

Deividas Martinavičius
PhD Student –
This course gave me valuable and detailed information on using the software, with just the right amount of theoretical background, as well as useful practical tips and tricks. It is so much more than reading online help files or watching videos. Compared to other calculation software, relatively more engineering judgment is required to correctly define the model and interpret the results, and this course provides a lot of help understanding how seemingly minor changes in input data can lead to significantly different results and possible errors. I am definitely more confident and efficient in using IDEA StatiCa after having finished the course.

Kornél Kiss
Drawing Office Manager –
Wat komt er nu ?
Online cursussen in IDEA StatiCa Campus zijn op aanvraag en kunnen in eigen tempo worden gevolgd. Wanneer u zich er klaar voor voelt, eenvoudig: